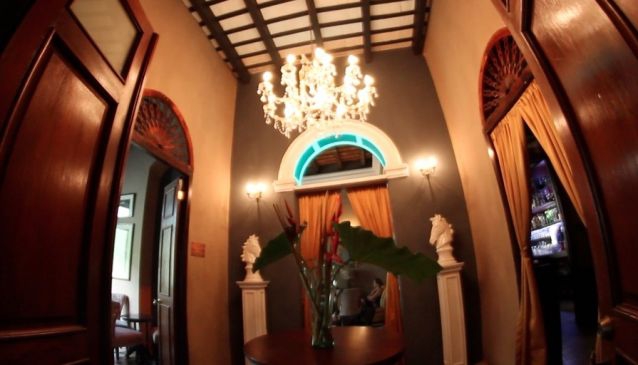 The Mezzanine - Old San Juan, Puerto Rico
The Mezzanine is a speakeasy style lounge above the St. Germain restaurant. It's located in the former home of a well-known "nationalista" and leader of the Puerto Rican Independence Movement, Pedro Albizu Campos. Campos spoke 6 languages and earned a degree from Harvard where he would have graduated valedictorian had he not been discriminated against for his mixed racial heritage. Campos was later imprisoned for 26 years after being convicted of attempting to overthrow the United States government. The Mezzanine's atmosphere, cocktails and history make this place a go to pre-drink and after dinner cocktail lounge in Old San Juan.
What Makes It Special: 
Atmosphere & History: You definitely feel like you are in another world at the The Mezzanine. It's decorated in the original style (or what one would assume to be), has lots of history on the walls, and even cool little balconies with 2 top tables for smokers or cigar enthusiasts.
Cocktails: The mixologists at The Mezzanine turn out steady goodness. My go-to is the cucumber martini (if it's not on the menu ask for it).
Pre & Post: Perfect spot for pre-drinking before a night out or post-dinner cocktails.
Food: Great small plates and tapas style options.
The Mezzanine Image Gallery
Contact Information:
The Mezzanine
Address: 156 2nd Floor, Calle Sol, San Juan, 00901
Phone: 787-430-4397