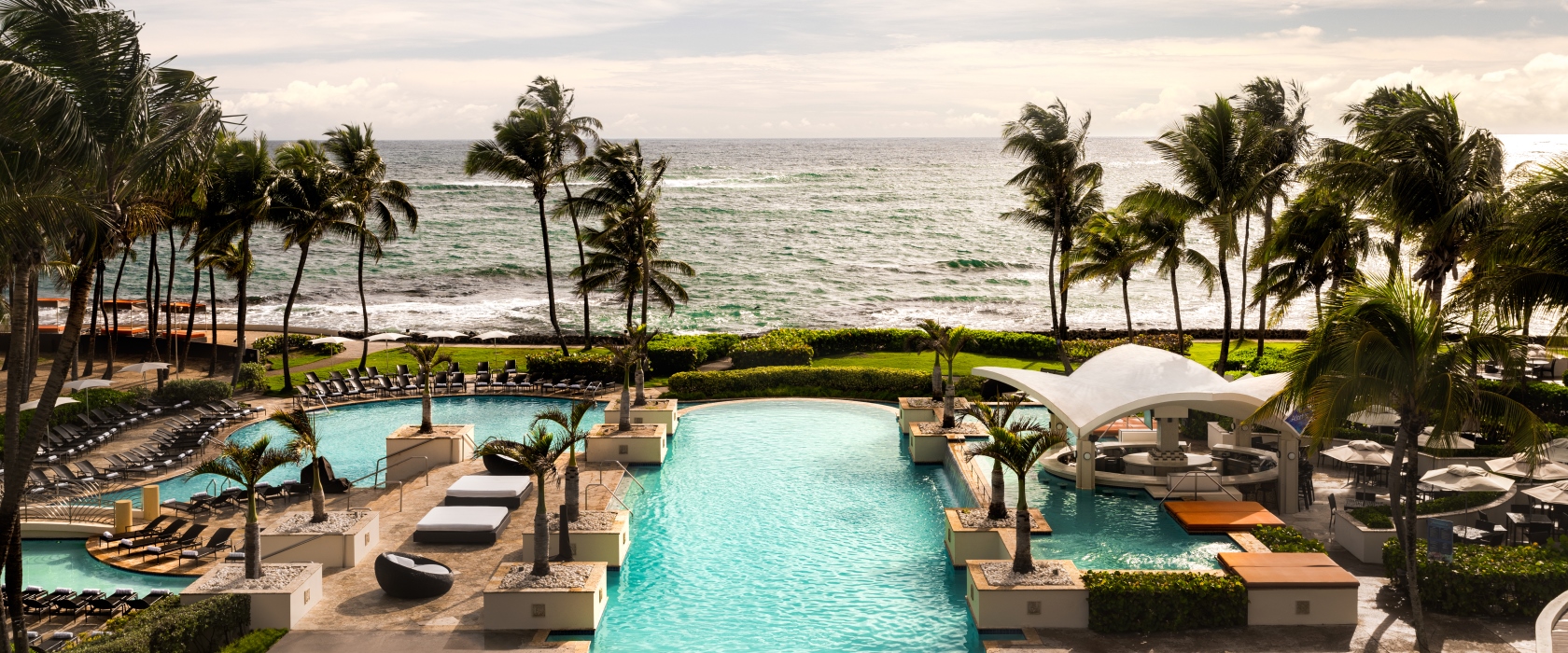 Caribe Hilton - Old San Juan, Puerto Rico
The Caribe Hilton in Old San Juan, Puerto Rico is one of the best known hotels/resorts on the island. The Caribe Hilton opened in 1949 and has some great history that is worth a read through on Wikipedia. The hotel and resort has 646 rooms and just completed a $100 million renovation post hurricane Maria. The property's large ocean front pool complex, calm swim beach, tennis courts, on property dining options and numerous amenities set the Caribe Hilton apart. The Caribe Hilton also claims that the Pina Colada was invented here in 1954. It's worth noting that several other places in Puerto Rico, including Barrachina (a restaurant in Old San Juan), also claim that honor.
What Makes It Special: 
Oceanfront Pool Complex: The Caribe Hilton's large oceanfront pool complex is definitely something special in Old San Juan. Most Old San Juan hotels and resorts have smaller rooftop pools. The Caribe Hilton's pool complex fronts the swim beach and with multiple swim up bars you won't stay thirsty long.
Swim Beach: The Caribe Hilton has one of the best swim beaches (in terms of calm water and accessibility) on the island. It is protected by a small rocky/reef shoal that creates an area of very calm water. For novice or non swimmers and children the Caribe Hilton's beach can be a huge +++.
Tennis Courts: Very few resorts in the area have tennis courts and as a tennis player I think it is worth mentioning. Being able to play tennis outside in a great environment is definitely a check in my "pros" column.
Dining Options: The Caribe Hilton boasts 9 dining options... I think that's a bit of a stretch but convenient choices matter to me. If I'm lazy or in a hurry being able to quickly get something that suites my mood is important to me.
Reward Points: For Hilton Honors members this could be a big factor.
Location: The hotel sits just across the Bridge in Old San Juan and as such you can get in and out of the Old San Juan district much more easily than most hotels/resorts in Old San Juan. Additionally
Renovation: The Caribe Hilton completed a $100 million dollar, 17 month renovation post Maria and at a hotel/resort like this everything being new matters.
Things to Consider:
Location: While getting in and out of Old San Juan will be fastest at the Caribe Hilton, there isn't a lot in close walking distance compared to other hotels in the area. It's not an easy walk to the areas of Old San Juan or Condado so if you stay here better plan on Ubering or renting a car.
It's a Hilton Property: While I don't have anything specifically against chain hotels/resorts, I normally do not prefer them. Although this property was recently sold to the Hilton subsidiary Park Hotels & Resorts which has a pretty good reputation, you will see shades of the the annoyances that can come with large chain hotels and resorts.
Pets: Pet's are not allowed.
Price: The Caribe Hilton will always be pricy compared to general hotel/resort costs in Puerto Rico. I have seen regular room rates range from $350/night during the week in off-peak season to $1000+/night during peak weekends. Expect the usual resort style fees as well (resort fees, parking fees, valet fees, etc.)
Caribe Hilton Image Gallery
Contact Information:
Caribe Hilton
Address: 1 SAN GERONIMO STREET, SAN JUAN, 00901, PUERTO RICO
Phone: 787-721-0303