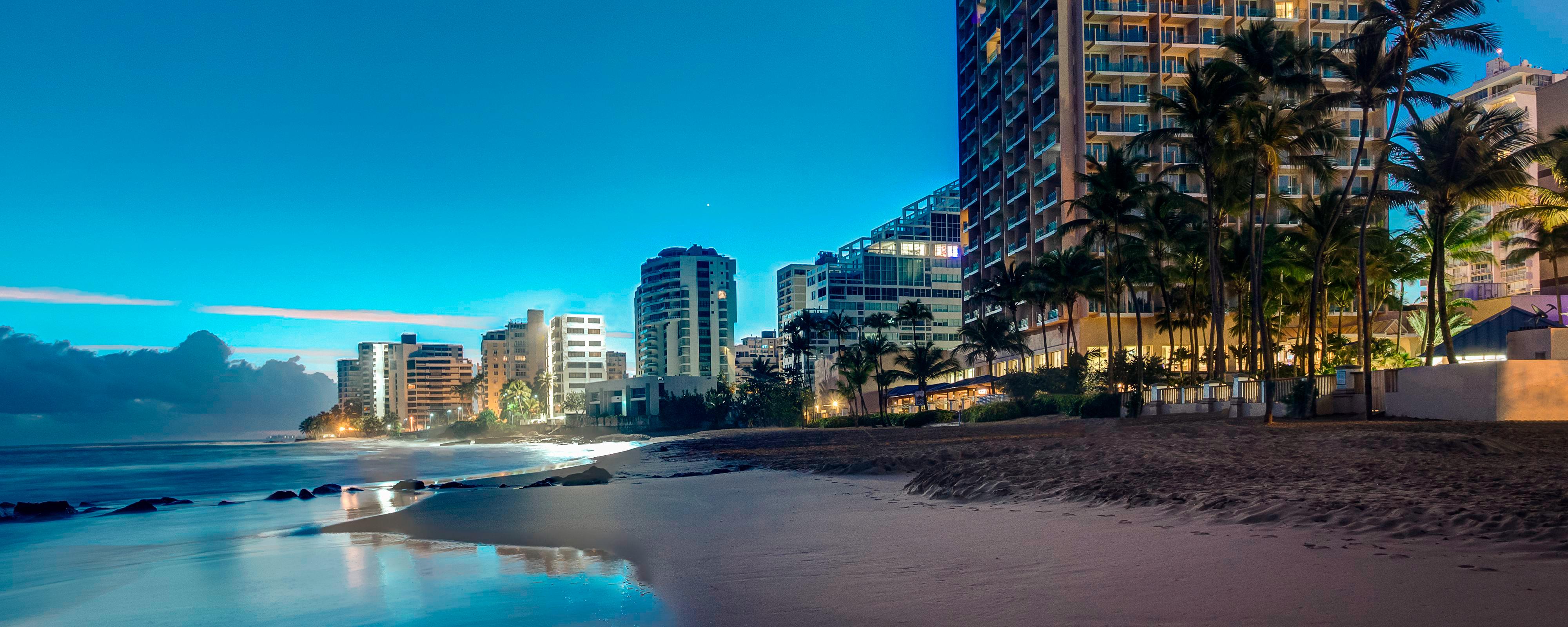 The Best of Condado Guide & Map 2021
The best hotels, resorts, restaurants, bars, clubs, nightlife, shopping, things to do, beaches and more in Condado, Puerto Rico curated by local guides.
Condado is a beachfront area of San Juan known as an international tourist and travel destination. The luxury hotel & resort lined Ashford Ave. runs down the center of this coastal community in San Juan and acts as the main hub for the area.... hotels & resorts, restaurants, bars, clubs, shopping, beaches, things to do & activities... Condado has it all. 
This is the FULL LIST of experiences in Condado curated by local guides. You can filter by type (hotels & resorts, restaurants, bars, etc.) below. There is also a guide & map link at the top of each section.
The Best of Condado Guide & Map 2021 (The Full List)
View the other curated Best of Condado guides & maps: Restaurants | Shopping | Hotels & Resorts | Things To Do - Activities | Best Beaches
La Concha Renaissance San Juan Resort - Condado, San Juan
La Concha is one of the most well known hotels/resorts in Puerto Rico.... beachfront access, central location, popular pool area, casino and luxury accommodations. The Saerafina restaurant in La Concha is solid as well. La Concha is pricey, and the extra fees abound, but none-the-less, it's one of the best luxury resorts on the island and a trendier/hipper option when compared to something like The Vanderbilt.
The Condado Vanderbilt - Condado, San Juan
The Condado Vanderbilt is old school luxury at it's best. The concierge services, personal pool & beach butler, corporate/business services and spa are among the best in Puerto Rico. The property features several bars and lounges, two restaurants (STK Steakhouse and 1919) and a cigar lounge. There are two pools and the ocean side of the property and one is an beautiful infinity pool at the waters edge. The interior features dark woodwork adorned with chandeliers over beautiful tile floors. It really has an old world elegant feel. The Vanderbilt is one of the most expensive options in Condado but if pampering is on the agenda you can't do better than this.
The Tryst Beachfront Hotel - Condado, San Juan
Tryst is a recent takeover and remodel of an older hotel on the beach in Condado. This boutique hotel in Condado has cool and trendy vibe, beach access with umbrella and chair service, a beachfront bar and restaurant (Wicked Lily), and it is reasonably priced. Tryst is a great option in Condado compared to some of the more "luxury" geared larger resorts. Rooms are about 1/3 the price (compared to something like The Condado Vanderbilt or La Concha) and the property and staff are great. If you are into boutiques you might want to check this one out.
AC Hotel by Marriott San Juan - Condado, San Juan
The AC Hotel is updated, modernly appointed and luxuriously decorated. The interior of hotel is elegant. The restaurant on property (La Bodequita) features tacos, flatbreads, salads, burgers and live music. The rooftop pool is modern and beautiful. The AC Hotel by Marriott San Juan is also just a 5 min walk from the beach. The AC Hotel is the best "luxury-bang-for-the-buck" in Condado and one of the best value vs. service/accommodations in Puerto Rico. Rooms here are moderately priced for the area and well worth it.
Doubletree by Hilton San Juan - Condado, San Juan
Technically the Doubletree might be in Ocean Park/Calle Loiza but it's right on the Condado border which a good thing... you have everything in both Condado and Calle Loiza within walking distance. The Doubletree in Condado makes the list for 3 reasons: 1) The Staff. Locals and tourists alike rave about the staff and have for years. 2) Silk. The on property Chinese/Japanese restaurant is great. 3) It's located within walking distance of the hot spots Calle Loiza and Condado. The rooms are updated, it has a vegetation surrounded outdoor pool and the Doubletree is in the mid price range for the area.... very reasonable when compared to the more expensive hotels and resorts Condado. Visit the amazing staff here and let them show what a difference in service can make.
Jose Enrique - Condado, San Juan
Jose Enrique is known for amazing Puerto Rican Cuisine. The original location still operated in La Placita (very cool area in Santurce) and it is great as well. The specials at Jose Enrique are always solid, the food is great, and the service keeps everyone happy. Jose Enrique is known for mofongo, the giant pork chops, avacado salad and many other great foods. If you are looking for a great Puerto Rican cuisine experience in Condado then jose Enrique is always a safe bet. Jose Enrique in Condado is always crowded in the evening and sometimes earlier so prepare to wait a bit.
Atabey - Condado, San Juan
Atabey is a rare place where price, food and vibe come together. Atabey is a casual joint in Condado serving a sort-of Puerto Rican fusion menu. The open and casual vibe is easy-going and it's a perfect chill spot for food and drink that won't break the bank. Atabey also has plenty of healthy options and AMAZING house-made hot sauce (pique in the local tongue). Grab some fish tacos and chill... we love Atabey.
Semilla Kitchen & Bar - Condado, San Juan
Semilla serves a Puero Rican fusion menu and is known for great all around food in general. They have great specials and promotions regularly ($3 margaritas all day recently). Semilla also has a great brunch menu and the food quality is generally higher than comparable brunch spots in Condado.  Semilla is one of the best restaurants in Condado and a great choice for high quality food and service at a reasonable price. It get's busy, especially for brunch, so call ahead for reservations if possible.
Louisa - Condado, San Juan
Louisa serves a Puerto Rican influenced menu and is known for fantastic steaks, seafood and paella. Louisa is a little hidden gem off the main strip (Ashford Ave.) in Condado and well worth the trip. The trendy tropical interior complimented with bamboo/wood accents creates a relaxing, elegant ambiance. The service is always top-notch as well. Louisa is among the best restaurants in Puerto Rico and deserving on of a spot on any foodie's list.
Serafina San Juan Restaurant - Condado, San Juan
Serafina is in the La Concha hotel and resort and is owned by the well known Serafina Restaurant Group. Serafina serves the Italian menu that the chain is known for and this staff prepares it well. The tropical plant adorned outdoor seating with trendy music on the heavily trafficked Avshford Ave. provides a fun atmosphere and great people watching. Serafina also has a good brunch menu and decently priced sangria and mimosa specials. Serafina is a fun place to go in the heart of the Condado energy with good food, drinks and service.
Mario Pagan - Condado, San Juan
The menu is of course created by well known chef Mario Pagan and it is well executed by chef Ivan Solis. The menu has clear Puerto Rican influences (with items like lamb alcapurria & tuna tartar on tostones) but the international flare and diversity set it apart from other Pueto Rican fusion menus. Mario Pagan is true fine dining with a corresponding price tag.... you can easily hit $100 per head here with a few cocktails. Mario Pagan's interior is minimally designed with a clean elegant feel. The food is unique and very well prepared, and the service is always amazing. Mario Pagan is one of the best true fine dining experiences in all of Puerto Rico.
Pinky's Condado - Condado, San Juan
Pinky's is a great little breakfast/brunch joint on Ashford Ave. The super casual atmosphere and great prices make Pinky's a regular spot for tourists and locals alike. The fare here is pancakes, various egg creations, breakfast sandwiches, lunch sandwiches, wraps, smoothies and juices. Great tasting hearty breakfast/brunch/lunch foods that won't break the bank in a spot you can get in and out of relatively quickly.
Pico Rico BBQ - Condado, San Juan
Sometimes you just want to grab a rotisserie chicken and call it a day. Pico Rico in known for great Puerto Rican style rotisserie chicken and sides. The price is right and chicken is good... additionally Pico Rico is local family owned business and that is important to us. Whether you are on that Netflix-and-chill-in-the-hotel-room life, or on the way home, Pico Rico chicken is a solid bet for good, fast, affordable food.
Almaviva - Condado, San Juan
Almaviva is a Caribbean seafood restaurant in the heart of Condado on Ashford Ave. The beautifully decorated modern interior and bar set the stage and the food quality delivers. Almaviva bills itself as a seafood restaurant but the Ribeye and Lamb Rack are also amazing. Almaviva is fine dining and the average price is somewhere around $75 per head... this amazing fine dining experience is well worth it. Almaviva is a top-tier restaurant in Puerto Rico and deserving of foodie patronage. PS: They also have great vegetarian options.
Aulet Dairy - Condado
Aulet Dairy is unique and special. You order through the website and then pick-up on Saturday 10AM - 1PM at the Condado location. This artisanal ice cream shop creates wonderful small batch, artisanal ice creams using fresh local ingredients. They use local milk from pasture grazing cows free of RBST and antibiotics, and their eggs come directly from Aibonito, Puerto Rico. Aulet Dairy rotates the menu weekly and the flavors are diverse and unique. If you are visiting Puerto Rico then order by Wednesday and pick it up on Saturday. Enjoy this amazing ice ice cream and support a creative local business. You view this week's menu and order here: https://www.auletdairy.com/
Cool Hope Creamery & Breakfast - Condado, San Juan
Ice cream brunch anyone? Sorbet Mimosas? Yes please. Cool Hope Creamery & Breakfast is a breakfast/brunch/ice cream spot with hearty classic breakfast foods, small batch ice creams, and yes... sorbet mimosas. Cool Hope's small batch ice cream is well known and many people's favorite. The atmosphere is very casual and the prices are reasonable. Get the brunch, try the mimosas, eat some ice cream and support a super-creative locally owned business.
Vine | Wine Cocktails - Condado, San Juan
This gorgeous little cocktail and wine bar is located in Semilla Kitchen & Bar. The decor is beautiful, the cocktails are great, the wine list is solid and you can get some small plates from Semilla (which is amazing) to munch on. Great place and definitely worth the visit.
Wicked Lily - Condado, San Juan
Wicked Lily is in The Tryst Beachfront Hotel in Condado. There are very few beachfront (actually on the beach) bars in Condado, Wicked Lily is one of the few places in the area that you can chill on the beach and have some drinks. The cocktails are good (try Bryan's Wicked Potion) and there are small plates and foods good for noshing. Wicked Lily is a great spot for day drinks, beach drinks or sunset chill sessions.
The Deck - Condado, San Juan
The Deck is on the oceanfront side of the Oceanclub Hotel (formerly Serafina Hotel) in Condado. The decor is modern minimal and the infinity pool at the water's edge looks pretty cool as part of your ocean view here. There is a small bar just inside and one outside by the pool on the deck, fun to be had at both. They often have DJs on the weekends and it can be a very cool spot. Drinks are pricey (in a hotel of course) but they are good. The Deck can be hit or miss depending on the season and the time. We generally check it out and if nothing is going on we have a nice cocktail by the water and keep it moving. PS: The hotel also sells day passes for the pool... could be interesting.
VC Lounge - Condado, San Juan
The VC lounge is a lux wine/cocktail lounge in The Condado Vanderbilt hotel. This is not a casual place with many patrons having before/after dinner drinks and cocktails and dressed appropriately. The dark wood/leather gives the VC Lounge that old world elegance feel and the leather banquettes are a pretty relaxing place to enjoy a drink. VC Lounge has live piano music on the weekends (and some nights during the week) and the ambiance is amazing. They also serve tapas if you require sustenance. As you might imagine, VC Lounge is pricey, this is to be expected as it is located in one of the most exclusive hotels in PR.
Serafina Restaurant - Condado, San Juan
Serafina is a restaurant and bar in the La Concha hotel/resort. Serafina is a great place to have a drink and it is a well known daytime stop for a lot of reasons... they have great sangria by the pitcher, good sparkling/prosecco/cava options, mimosaa/belinis, decent brunch food options, an energetic outdoor ambiance in the heart of Condado on Ashford, and music playing.
Bodegar Wine & Tapas - Condado, San Juan
Bodegar is on the 2nd floor above Di Zucchero restaurant on Ashford Ave. in Condado. Quality and service at Bodegar are top notch. They have great wines by the glass and bottle, a beautiful interior, fantastic food, a cool vibe and tables overlooking busy Ashford Ave. that give the place a bit of energy. Cocktails here are around $10 and the tapas run about $10 - $20 each. Bodegar is an amazing place and well worth it.
Nativa - Condado, San Juan
Nativa is an amazing women's clothing boutique with a large selection of great pieces just off Ashford Ave. The diversity and quality of the collection here is top-notch, there is something for everyone. You'll find dresses, rompers, tops, pants, accessories, shoes, jumpsuits, lounge wear, cocktail wear and more at Nativa. Additionally, the entire collection is appropriately and reasonably priced (dresses typically range from $60 - $150). Nativa has been in business for over 40 years and is very well known by locals fashionistas. Visit Nativa and browse the great collection here.
Charme - Condado, San Juan
Charme has a large inventory of "flowy" tunics, jumpsuits, ponchos and blouses and is known for a great inventory of 100% linen pieces. The "flowy Caribbean" vibe of the collection is is unique and well executed. One thing that makes this place special: the collection features styles that appeal to all age ranges. Charme should be a stop on any shopping outing if you are in the Condado area.
Olivia Boutique - Condado, San Juan
Olivia Boutique is a luxury designer boutique that inventories beautiful pieces from designers like Agolde, Derek Lam, ALEXIS, Isabel Marant Etoile, Miss June, Esse Studios, Les Neobourgeoises, FAITHFULL THE BRAND.... 100+ emerging and established brands and designers... too many to list. As you might expect, Olivia is a bit pricier than most but the collection is appropriately priced. If you are looking for a gorgeous piece, or if you just want to window shop (totally worth it), then stop by Olivia Boutique.
Men's Clothing & Fashion Boutiques
Zafiro Condado - Condado, San Juan
Zafiro is a men's clothing and fashion boutique (they also have a location in Old San Juan). Zafiro carries a hip and trendy line of designers including Psycho Bunny, Eight-X, Project-X-Paris, Secrid, Goorin Bros and many more. If you see Psycho Bunny t-shirts on the island they likely came from here. One of the best stops in Condado for trendy Men's clothing.
Root - Condado, San Juan
Root is an amazing little gem in Condado. They carry a small line of men's clothing created by a duo of designers from Puerto Rico and Argentina. The designs here are all limited run (only 15 made of the last thing purchased there!) and the clothing is beautifully made in Peru. Root also carries a very cool selection of original art. Check out this amazing collection of t-shirts, polos, swimwear, pants, accessories and much more.
Monsieur - Condado, San Juan
Monsieur is a men's clothing store on Asheford Ave. in the heart of Condado. They carry a wide range of styles from Men's swim trunks to dinner jackets and blazers. Whether you are on the way to the beach or you just need a jacket for a fancy outing.... Monsieur can help. Monsiuer is a bit more upmarket in terms of style and price tag but, the collection as a whole is moderately and appropriately priced. Monsieur is known for jeans, dress shirts, dress pants/slacks, jackets/blazers and swim trunks.
Fine Jewelry 
Cartier Puerto Rico - Condado, San Juan
It's Cartier. Is that enough said? Upmarket fine jewelery, gifts and timepieces in classic designs. The service at Cartier is always warm and amazing. Again, it's Cartier... always gorgeous and always worth a visit.
Souvenirs & Gifts
Gul Plaza - Condado, San Juan
Gul Plaza is likely the best souvenir/gift shop in Condado. It has a a very wide variety of items in inventory and the prices are great. You can even grab a bottle of chichaito to take home :) Clothing, hats, swimwear, spoons, bottle openers, ash trays, everything you can think of....... If you need some gifts to take home then this is the spot in Condado.
Cigar Lounges & Smoke Shops
Smoke It & More - Condado, San Juan
Smoke it and more is a great all around smoke shop and paraphenilia headquarters. They carry cigars, cigarettes, dip, chew, rolling papers, pipes, bongs and just about anything else you can think of. Prices are a bit high just because it's in Condado but that is to be expected in the area. The great selection and helpful staff makee this tobacco and smoke shop the best bet in the area.
Kuros Smoke Lounge - Condado, San Juan
Kuros Smoke Lounge is a little cigar shop on Ashford Ave. If you are looking for a nice cigar to enjoy after dinner or on the beach then this is likely the spot. They have a good selection of cigars that are usually fresh. They are a bit expensive but this is a tourist area after all and things in Condado are generally more expensive. If you are looking for a nice cigar, and maybe something a bit more exotic, then try Kuros.
I Tour Puerto Rico, Inc. Condado, San Juan
I Tour Puerto Rico, Inc. is one of the most trusted tour, guide and activity companies on the island. Our local guides have used them many times and we have all had friends book with the company... all positive stuff... no complaints. They offer a very wide variety of incredible experiences in Puerto Rico and they pick-up and drop-off in Condado. The price is right and they have many different options that save money in common sense ways like: group discounts, discounts for riding on an ATV vs. driving, the option to add or remove transportation services from some activities/excursions, etc. Some examples of our favorite tours and activities from I Tour Puerto Rico are below, you can call them here +1 787-244-0099 or book on the website here: https://www.itourpuertorico.com/
Zip Lining 
Take on "The Monster"! Fly down the longest zip line in the world (2.5 km) over the rainforest canopy at up to 95 miles per hour..... or take some of the more laid back options. Puerto Rico has some of the best zip lining in the world.
ATV Tours 
Drive ATVs around a 600 acre ranch in the foothills of the El Yunque rain forest. Discounts for riders vs. driver.
Horseback Riding Tours
Horseback riding in the El Yunque rainforest or on the Luquillo beach. Super cool experience.
Snorkle Tours
Amazing destinations for snorkle tours and great pricing. You should check out the Cayo Icacos & Culebra snorkel trips.... they are amazing.
Bio-luminescent Bay Kayak Tours
Take a kayak tour of the bio-luminescent bays in Fajardo on a day trip with transportation to and from Condado. Amazing expereince especially if you have not seen it before... this one is best on nights with low moonlight.
Spelunking Cave Rapelling 
Explore some amazing volcanic caves in Puerto Rico, rapelling included. They have a variety of cool options I would call them on this one.
VIP Adventures - Condado, PR
VIP adventures is also a very well known tour and activity company located in Condado. VIP adventures is on the lagoon side close to the bridge so it's easy to get in and out of for quicker less intense/less planning required/last minute excursions. While VIP offers a very wide range of awesome tours and activities..... they specialize in offerings that are easier, quicker and less expensive than most in terms of transportation, time required, prior planning required, etc. VIP is great for last minute stuff. They also cater to couples and groups with options for paddleboarding and kayaking for 2 by the hours. A few of our favorite examples of the tours and activities VIP Adventures offers are below. You can call them here 787.466.0131  |  787.502.5333 or book on the website here: https://www.adventurespuertorico.com/
Paddleboarding
Paddleboard in the lagoon at $20 per hour for 1/$30 per hour for 2 on a single board.
Kayaking
Kayaking in the lagoon at $20 per hour for 1/$35 per hour for 2 in a single kayak
Kayak + Paddleboarding
1 person can get rent a paddle board and a kayak for 2 hours for $35
Bicycle Rental
$30 for 3 hours
Tandem Bike Rental
$40 for 3 hours
Condado Beach is the only large beach area in Condado and it is located between La Concha Renaissance San Juan Resort and the San Juan Marriott Resort & Stellaris Casino. Condado beach is usually crowded as it is the main beach for the tourist area of Condado. There are various different chair/umbrella rental spots, vendors, beach bars and cafe, etc. The resort properties also front this beach which makes for some additional fun and energy. Be careful: waves and currents can get strong at Condado Beach, especially in the winter.
Playita Del Condado is a small sheltered beach on the northmost tip of Condado just past the Condado Plaza Hilton. It's great for swimming due to it's sheltered location.... you can also beat the tourist crowds here a bit during peak times. There are usually vendors around selling food and drink as well. Keep in mind there are no public restrooms here.