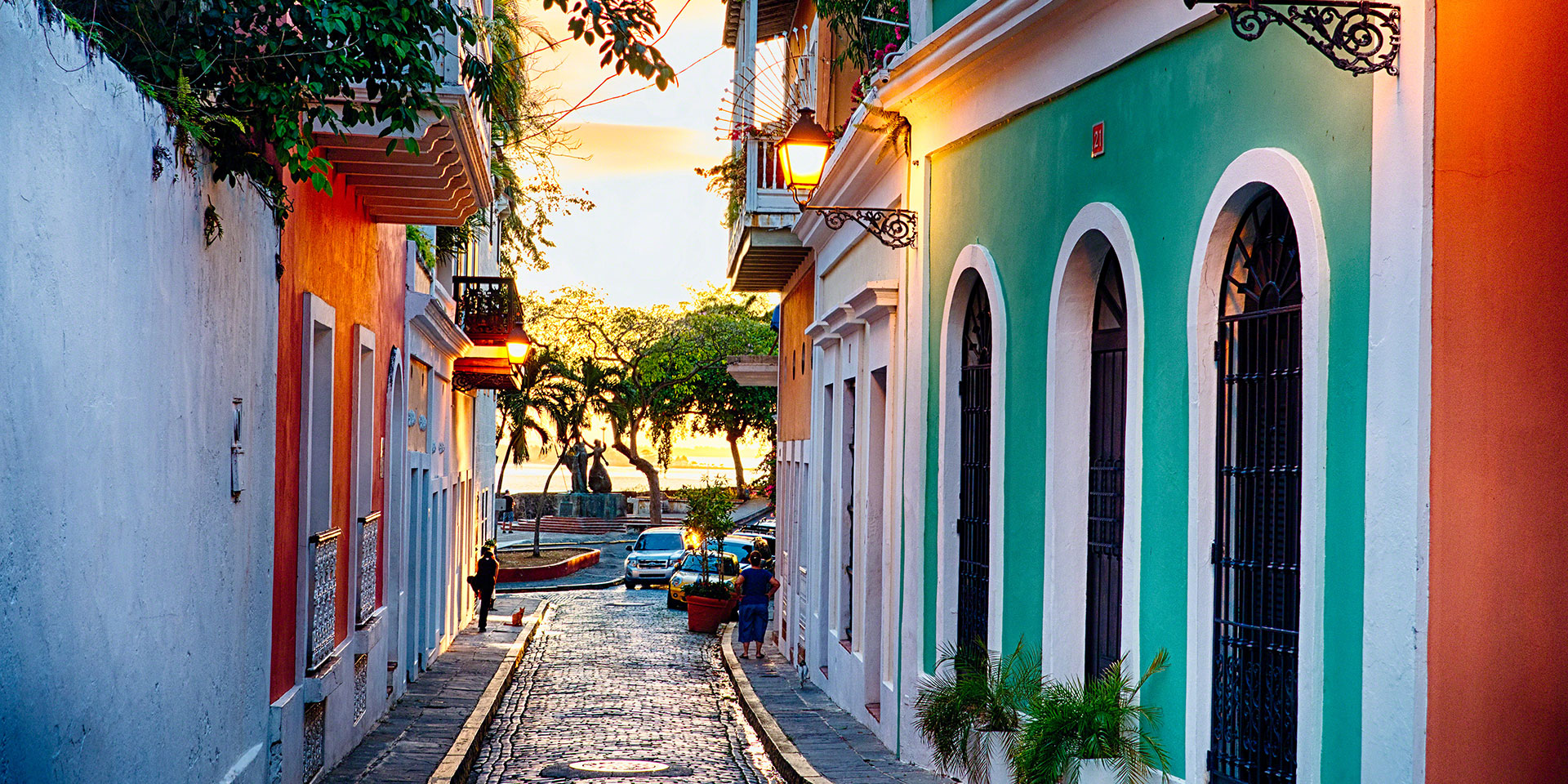 The Ultimate Old San Juan Shopping Guide
The best Old San Juan shopping guide and map. This is a list of curated shopping experiences in Old San Juan, Puerto Rico... the best stores, boutiques, local artisans, and more. Old San Juan's densely packed streets and abundance of store fronts make it a shopping mecca in the Caribbean. Fashion/clothing boutiques, jewelry dealers, art dealers and cigar/smoke shops are abundant in the historic district.
The Old San Juan Shopping Map
CLICK HERE TO GET THE OLD SAN JUAN SHOPPING MAP to view all of our curated Old San Juan shopping experiences in one easy to use planning tool.
Map Features:
Easy-to-use Google Maps interface
Clear location & navigation without the clutter
Directions from your current location
Filter by store/shop type
Shareable with your shopping companions
View the other curated Old San Juan guides & maps: Restaurants | Hotels & Resorts | Bars, Clubs & Nightlife | Things To Do - Activities | Best Beaches
Women's Clothing & Fashion Boutiques
Collective Request - Old San Juan, Puerto Rico
An all around great women's clothing boutique.... super cute minis, maxis, rompers, tops, shorts and much more. Everything is reasonably priced and the service is always excellent.
Lisa Cappalli - Old San Juan, Puerto Rico
Lisa Cappalli was born in New York where she attended Parsons and spent time in Paris after graduation. Her mother was Maria Milagros Rosa Crespo (Mili Arango) and her aunt was Patti Cappalli.... both prominent fashion designers. Lisa Cappalli's pieces are beautiful and unique, a must see in Old San Juan.
Pink Tree - Old San Juan, Puerto Rico
Pink Tree is a great little shop with a wide range of swimwear and women's clothing in inventory. Pink Tree is moderately priced and great buys abound. Tons of amazing stuff here at great prices... don't miss this one.
Pasarela Alta Moda - Old San Juan, Puerto Rico
Great boutique selections from swimwear/resort wear, to dancing dresses, to super cute accessories (handbags, jewelry, sunglasses, hats, shoes). Staff is knowledgeable and friendly. A wonderful overall shopping experience in Old San Juan +++++.
Valija - Old San Juan, Puerto Rico
Valija has a ton of really cute clothes at the right price with promotions and sales going on all the time. Pieces here generally range from $25-$50 and they are solid quality... if you need to beef up your vacation wardrobe without spending a fortune this a great place. Everyone I know makes regular stops at Valija.
Concalma - Old San Juan, Puerto Rico
Concalma is a rare place where social good, local artists/artisans, and fashion meet. The Concalma bag line is manufactured at the Cooperativa Industrial Creación de la Montaña in Utuado, Puerto Rico since 2006. We LOVE THIS PLACE for so many reasons.... including the many amazing bags purchased here. Visit Concalma to get a truly unique piece of art and feel good doing it.
Men's Clothing & Fashion Boutiques 
Zafiro Viejo San Juan - Old San Juan, Puerto Rico
One of the few Men's fashion boutiques in Old San Juan. Zafiro carries a hip and trendy line of designers including Psycho Bunny, Eight-X, Project-X-Paris, Secrid, Goorin Bros and many more. The last time I was here I got my man a nice Psycho Bunny t-shirt and he wears it all the time. One of the best stops in Old Town for trendy Men's clothing.
Costazul - Old San Juan, Puerto Rico
Costazul carries men's, women's and children's beachwear and swimwear. Costazul ended up in the men's section because we feel it's just generally more appealing to men due in part to the lack of men's clothing options in Old San Juan. This a great place for swim/beach gear for the whole family. Sunshirts, swimshirts, sunblocks, reef shoes, water shoes, caps, visors, beach tumblers.... everything you need. Costazul carries brands like Pelagic, Columbia, Maui Jim, Salt Life, Costa del Mar and many more. If you are in the market for beach gear don't miss this one... they have it all.
Accessories & Jewelry 
El Gapon - Old San Juan, Puerto Rico
El Gapon is an amazing little hat store with a huge variety of men's and women's hats including real hand made options. Widely known as one of the best places in the Caribbean to buy an authentic hand-made Panama hat, El Gapon has great head pieces for all.
Urban Tribe - Old San Juan, Puerto Rico
Urban Tribe has amazing jewelry and accessory creations from local artists including Nelson Enrique. Hand crafted bangles, necklaces, rings... you'll find them all here. Urban tribe always has a beautiful collection of pieces sure to turn some heads.
EB Deisgns - Old San Juan, Puerto Rico
EB Designs has a beautiful collection of Caribbean style jewelry. The jewelry here is unique and affordable. This hidden gem of Old San Juan carries Horn Larimer, Love Q, Veronica's Jewels, Haiti Cherie and Gabrielle to name a few.
Fine Jewelry Stores, Precious Metals & Diamond/Gemstone Dealers
Coqui el Original - Old San Juan, Puerto Rico
Puerto Rican and Caribbean themed fine jewelry is Coqui el Original's specialty. All their jewelry is 14k gold or .925 sterling silver. Coqui El Original is a 4th generation local business with an impeccable track record of quality, affordability and price.
Diamonds International - Old San Juan, Puerto Rico
This well known diamond and fine jewelry dealer always has the best of the best. From engagement rings, to tennis bracelets, to Rolex & Breitling..... it's all here. Diamonds International is also a very well known duty free destination for cruisers and vacationers alike. Service is always impeccable and the inventory is always stunning. Stop by and marvel at the sparkles...
Blue Diamond Luxury - Old San Juan, Puerto Rico
Blue Diamond likely has the largest selection of fine jewelry and watches in Old San Juan. Some watch brands you'll find here: Hublot, Tossit, Longine, Citizen Bulova, Maurice Lacroix and more. Some jewelry designers they carry: Alex and Ani, Alor, Gucci, Dune, Fope, Hearts on Fire and more. Browse the amazing selection here.... you might find something you love!
Effy Jewelry

- Old San Juan, Puerto Rico
Effy Hematian has been designing some of the world's most distinctive jewelery since 1979. Effy Jewelers uses a lost-wax technique to create stunning one-of-a-kind pieces. Effy Jewelry's signature collection is bold and beautiful art featuring Effy's lifelong muse the panther as a focal point.
Gifts, Crafts and Souvenirs 
Eclectica - Old San Juan, Puerto Rico
Eclectica has a managerie of imports from the Caribbean, India and many other places. Gifts and trinkets abound and you can wonder around in here and check out all the cool stuff.
Puerto Rican Arts & Crafts - Old San Juan, Puerto Rico
Established in a restored Spanish colonial building in the heart of Old San Juan, Puerto Rico, Offering oil and acrylic paintings, water-colors, ceramics, silk-screens, sculptures, hand made jewelry, traditional hand carvings, and native gourmet foods. From souvenirs, to gorgeous original oil paintings, this place is always fun to explore.
Cigar Lounges & Smoke Shops
The Cigar House of Puerto Rico - Old San Juan, Puerto Rico
Even if you are not a cigar lover yourself the chances are you know someone who is. The Cigar House has rare and often sold-out-elsewhere cigars as well as all the standards. Everything is fresh and the staff is knowledgeable and polite. Grab a scotch and take in your favorite stogie or pickup gifts for friends.
Smoke It & More - Old San Juan, Puerto Rico
Smoke it & More is basically a great bar where smokers can hangout.  They have good tapas, great cocktails made with fresh juices, and solid hookah service. They also carry all smoking paraphernalia you could want... not your typical cigar lounge fare. You can smoke in the lounges and there is a large bar to serve a crowd.