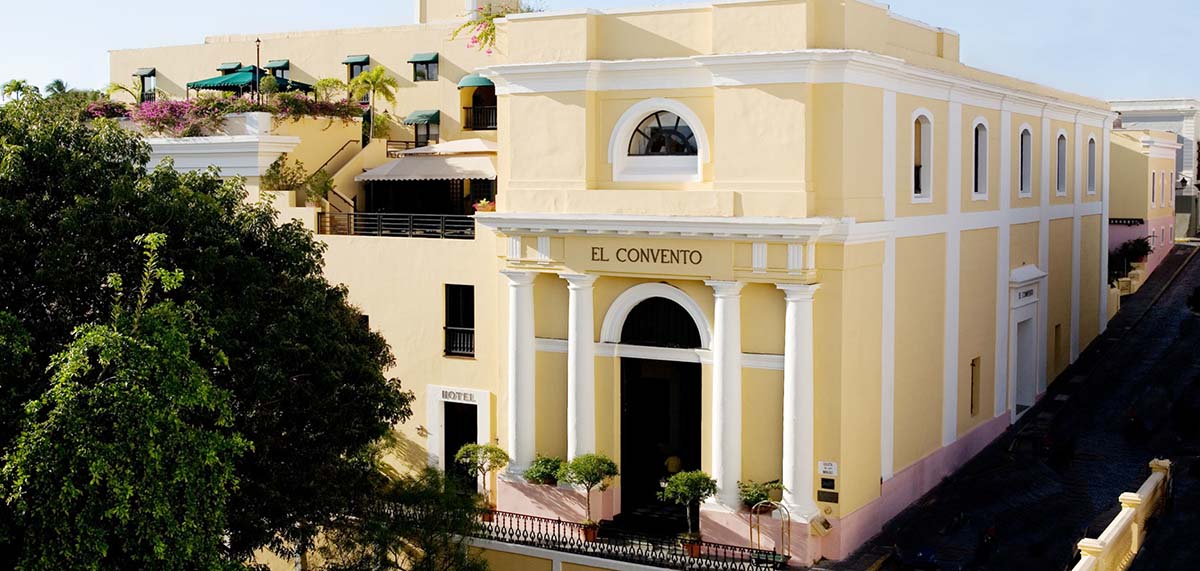 Hotel El Convento - Old San Juan, Puerto Rico
Hotel El Convento in Old San Juan, Puerto Rico is one of the most luxurious hotels/resorts on the island. The El Convento was built in 1646 and is the oldest member of the Historic Hotels of America. Located in the heart of Old San Juan, Hotel El Convento is an easy walk from everything that the historic district of Puerto Rico has to offer. Well appointed rooms, service, location and a great restaurant make El Convento a top choice in Old San Juan.
What Makes It Special: 
Style: The 16th century Spanish style in the heart of Old San Juan definitely creates an amazing ambiance for your stay.
Service: The service at the Hotel El Convento is of the highest tier available in Puerto Rico.
Beach Club: Enjoy the best of both worlds.... stay and explore in Old San Juan and use the El Convento beach club to visit sister resorts on some amazing beaches (including Pine Grove beach in Isla Verde which is one of the top urban blue flag beaches in the world). Transportation to and from these beaches is also provided.
Dining: Santisimo has been recently reconfigured from menu to chef and it is a gem in Old San Juan. Great food, service and surprising decent prices. We ordered a bottle of Frexinet Cava for $36 and had some great food. 6 people and all satisfied during our last venture here.
Location: It's in the heart of Old San Juan with endless entertainment, dining, and shopping options in every direction.
Things to Consider:
Travel Considerations: Getting in and out of Old San Juan can be a bit cumbersome during peak times, events and festivals. If you are leaving Old San Juan for dinners or excursions be sure to check out how busy it is in the area and or ask the hotel staff.

Pro Tip: Walk a few blocks down to Plaza De Colon and call your taxi or Uber there if things look hectic.... it's much easier for them to get there and it can save you waiting forever for your car and then waiting in traffic forever yet again to get out of Old San Juan.

Beach Life: If you are looking for a beachfront resort exclusively, this is likely not the spot for you. There are few beaches in Old San Juan in general and although the beach club access at Hotel El Convento can get you to great beaches pretty easily, they are 15-20 mins away from the hotel in good traffic.
Outdoor/Nature Stuff: If most of your trip is going to be spent doing outdoor activities and excursions (fishing, snorkeling, diving, hiking, etc.) then you might want to consider a different hotel/resort. The vast majority of the outdoor activities you will have access to on the East Coast are available in places like El Yunque, Rio Grande and Fajardo which are already a bit of a drive... adding the escape from Old Town can significantly increase your travel time. Of course, a lot of people just stay a portion of their trip in Old San Juan and a portion in another destination like Fajardo that is close to their planned activities.
Price: I have seen regular room rates range from $175/night during the week in off-peak season to $650+/night during peak weekends. 
Hotel El Convento Image Gallery
Contact Information:
Hotel El Convento
Address: 100 Calle del Cristo, San Juan, 00901
Phone: (787) 723-9020