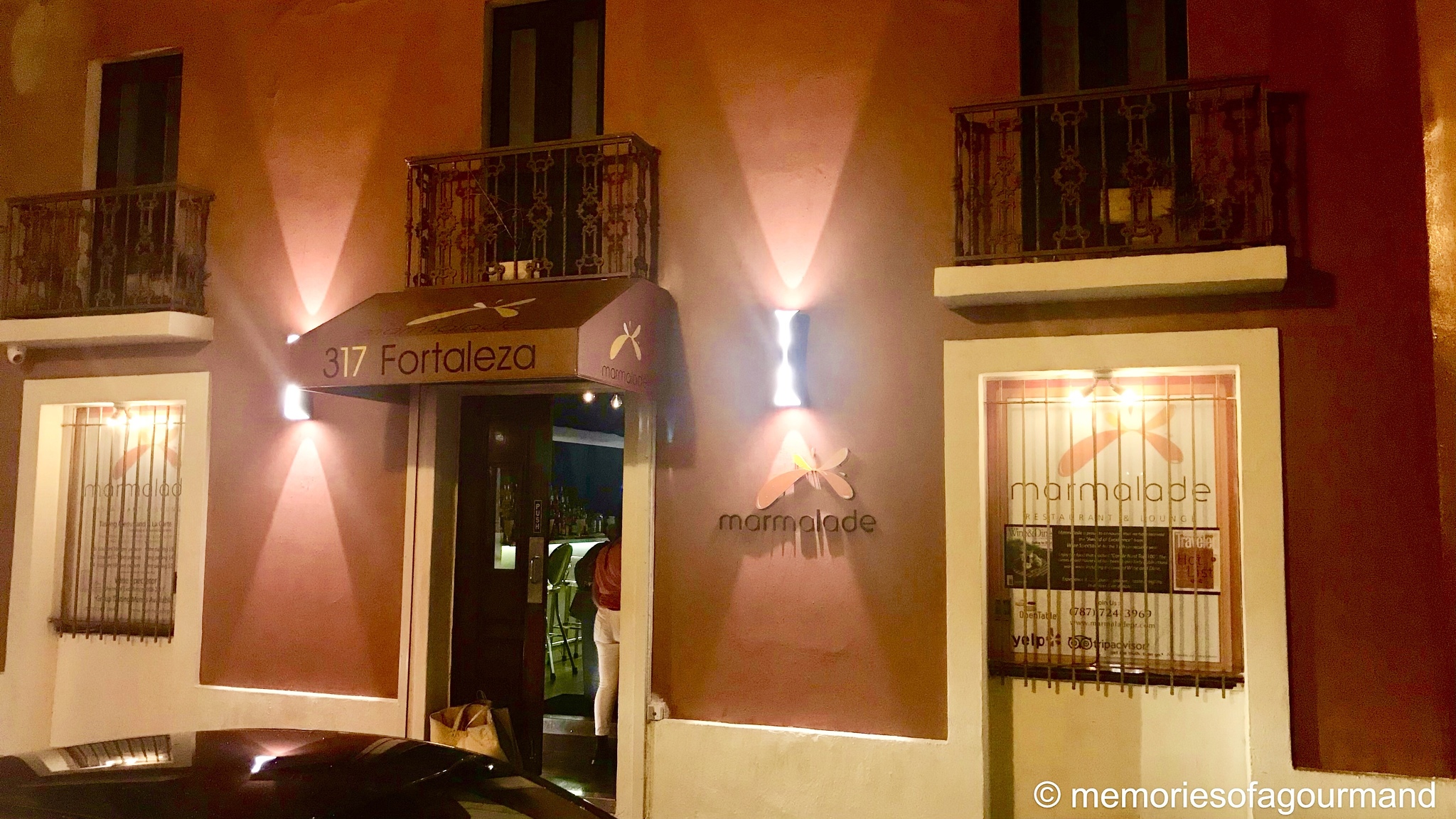 Marmalade - Old San Juan, Puerto Rico
Disclaimer: Marmalade is my favorite fine dining restaurant in Puerto Rico..... attention to detail, service, consistency and a chef that genuinely loves his craft. 
I've lived many different including New York (the best food in the world in my opinion), and Marmalade is one of the few restaurants in Puerto Rico that can compete with the best dining establishments in any major metropolitan food haven. Marmalade is located in the heart of Old San Juan, Puerto Rico and if you have a chance to visit definitely do so.
What Makes It Special: 
Menu: The Menu is diverse, creative and inspired. 
Service: Generally the best service I have received in Puerto Rico. 
Global Warming: This cocktail deserves a mention all to itself. It is usually all I drink here and almost everyone I go with loves it. Its a pomegranate flavored drink that comes off more dry than sweet with a sphere of ice that is infused with habanero and jalapeno peppers. The end result is a drink that gets hotter as the ice melts... hence the name. Legit, one of my favorite cocktails of all time.
Ingredients: The ingredients used at Marmalade are truly rare in Puerto Rico.... you will find all the great shiitake & morel mushrooms, different truffle varieties, high quality saffron, cacao grown in the rain forest mountains of Puerto Rico..... the list just goes on and on. 
The Chef: Peter is SUPER into the culinary arts and he wears it on his sleeve. He often walks around the restaurant to talk to the patrons and it will only take you a few minutes to recognize that this is his calling. Peter's attitude and love for the craft translate across all aspects of the restaurant..... the foundation for a great restaurant & dining experience.
Things to Consider:
Price: As you might expect Marmalade is pricey and especially so for Puerto Rico. That being said, it is much better than the vast majority of other restaurants with similar prices. If you are going to spend a fancy night out your money is well spent here. The average bill at Marmalade is approximately $150 per couple with a few drinks.
Reservations: Marmalade does take reservations and you will need them on busy nights, weekends & holidays.
Marmalade Image Gallery
Contact Information:
Marmalade
Address:  317 C. de la Fortaleza, San Juan, 00901, Puerto Rico
Phone: 787-724-3969